Introduction: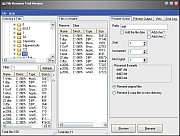 Only $19
&
Get the fast support from North America
Want to batch rename quickly? File Rename is the tool you need.

File Rename is a bulk renaming tool to rename thousands of files in few clicks.
Easy to use but powerful user interface with built in preview to see after-effects of renamed files.

With File Rename, you will be able to:

# Rename your thousands of files in few seconds.
# A simple, flexible and yet powerful interface to rename files.
# Powerful real-time preview to avoid errors.
# Log files of renamed files.
# Change and remove File extension with File Renamer in one click.
# Rename files with numerical incremental and decrement counter and Set Counter Limits as you wish.

.


Note:

1) Registration code of previous version can NOT work with this version again. Please contact [email protected] and supply us with your purchase information, we will generate new registration code for you as request.
System Requirements:
Windows 95/98/ME/2000/NT/XP, Internet Explorer 4.0 or later