Introduction: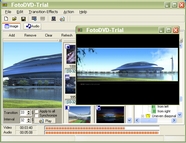 Only $19
&
Get the fast support from North America
With FotoDVD, you will be able to:

Archive your digital photos on a long-lasting CD that's playable on standard DVD/VCD players.
Create impressive DVD/VCD/SVCD compatible video Mpeg files with transition effects & music from your photos.
Watch your digital photos on big TV screen with family & friends. All you need is a DVD/SVCD/VCD player.

Your will benefit in many ways from using FotoDVD:

Key Features
·DVD/SVCD/VCD are well supported
FotoDVD supports PAL/NTSC and the mpeg files which are compatible with DVD/SVCD/VCD

?/b>Professional user interface and very easy to use.
?/b>Powerful photo editor integrated makes it easy to edit your photos.



·Choose from hundreds of transition effects for your slideshow.

?/b>Choose background music (MP3) for your album.

?/b>And multiple music files for a single slide show is supported.



·Direct trasition preview effect icons
Simple series of effect icons indicate the transition effect of each photo in the slide show project.




·Easily control for individual photos.

Select different display times and transition settings for individual photos.

·Auto/manual synchronize audio & video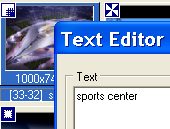 ·You can now add text, photo date, file name on your photo. And easily to change the font of the text.

?/b>Easily to organize your photos into multiple albums.
?/b>Preview movie before making.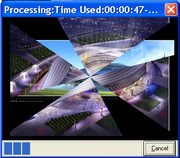 ? Real-time monitor the process of converting photos and audio to mpeg files.

just click on the button 'Convert', you can real-time view the whole procedure of converting the photos to mpeg files with transition effects,

?High quality support.

We guarantee we'll answer your email questions promptly and accurately within 24 hours, Monday through Friday.

?No quibble 30-day money-back guarantee.
There is a 30-DAY MONEY-BACK GUARANTEE on FotoMonster, even though you also have 30 days to try it for free before registering! The 30-day money-back period starts at the time of registration. If you buy now you will be enjoying all the benefits of the registered version within minutes!
What's New of Version 2.1:

New: new transition effect, process of the first frame of mpeg file.


Note:

1) Registration code of previous version can NOT work with this version again. Please contact [email protected] and supply us with your purchase information, we will generate new registration code for you as request.
System Requirements:
Windows 95/98/ME/2000/NT/XP, Internet Explorer 4.0 or later